ETC Institute staff has successfully geocoded survey results for dozens of market research projects in the past three years.
Our GIS team can bring highly developed and current skills in automated information collection, data cleanup and manipulation, state-of-the-art geocoding, and database development. Our planners and technicians routinely support transportation planning, customer satisfaction analysis, parks and recreation planning, and other planning and modeling efforts around the country.
The map below shows the physical distribution of respondents from a recent survey. The dots show the location of respondents based on geocoded latitude and longitude coordinates of their home address.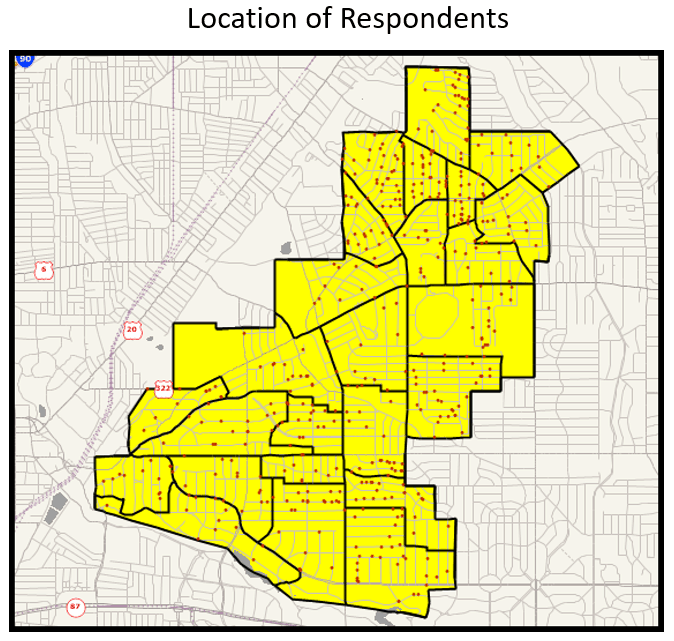 Over the past ten years, our GIS team has geocoded a wide range of address information, including:
Areas of satisfaction and dissatisfaction with the delivery of city and county services
Origins and destinations for household travel and roadside intercept surveys
Visitor destinations for tourism-related projects
Locations of residents who are satisfied or dissatisfied with the quality of city services
Locations of residents who have needs for various types of parks and recreation programs and facilities
Locations of persons who are likely to support various election issues
Locations of persons who have experienced flooding in their homes
Locations of businesses and non-profit organizations that would support stormwater fees and many other types of data
Locations of support and opposition to voter initiatives
GIS maps not only provide our clients with a visual representation of the areas of the City that are surveyed, but they also show areas where residents have the greatest and least amount of satisfaction with various services. The map below shows levels of satisfaction with the convenience of parking in the City. Areas in blue identify areas with high levels of satisfaction. Areas in orange and red identify areas with lower levels of satisfaction. The map shows that residents living in the southern part of the City feel more satisfied with the convenience of parking in the City than those in the northern part of the City.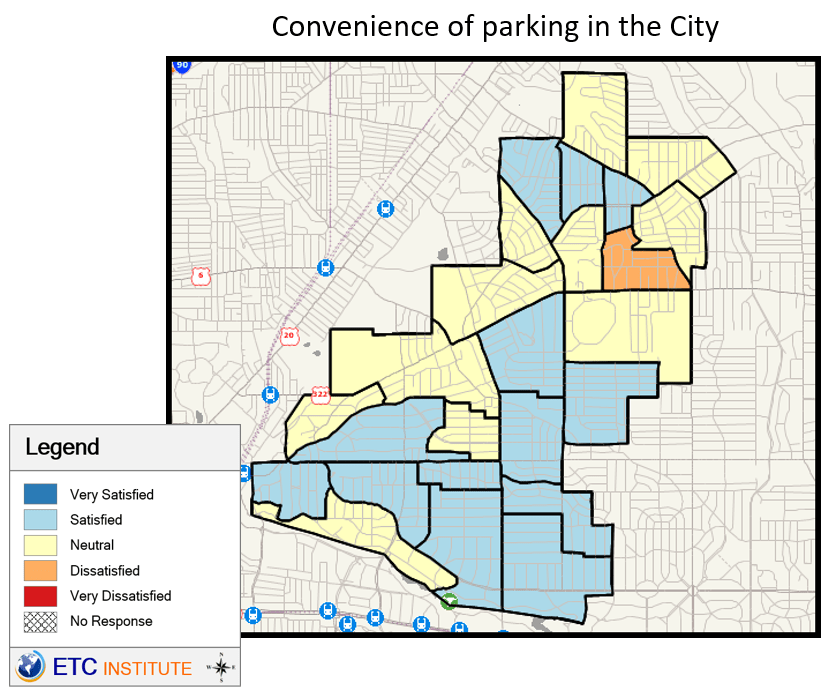 Our GIS technicians have developed an exceptional working relationship that benefits our clients. This technology has helped to improve data reliability and gives our team the ability to deliver a top-quality product on time and on budget.
At ETC Institute, we accurately geocode (provide latitude and longitude) lists of addresses, intersections, place names, tourist attractions, transit stops, and almost any other location records anywhere in the U.S. with very high match rates. Our record "hit" rates are well above the industry average thanks to our well-thought-out, systematic, and rigorous record quality assurance process (REQAP), which begins at the survey design stage and continues until the last record has been geocoded and verified.