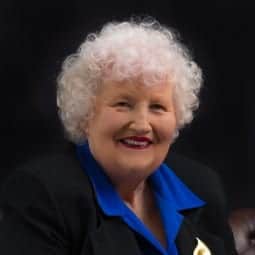 Dr. Tatham is president and 100% owner of ETC Institute, a management consulting firm that does consulting with a focus on evaluation, research design, market research, information management, statistical applications, and analysis.  She has both the experience and academic credentials to design, monitor, and make final assessment of results for customer satisfaction research.
She was a member of the Olathe Planning Commission for almost ten years and served as chair of the commission.  She is a member of the Board of Directors for Olathe Medical Center and currently serves a chair of the patient satisfaction committee.  She has been instrumental in the design and successful administration of patient satisfaction surveys for several health related organizations.
She is a certified management consultant through the Institute of Management Consultants (New York City).  She is an adjunct lecturer in the University of Kansas graduate Engineering Management program.  Her specialties include operations research, forecasting, and system simulation for management decision-making.
Dr. Tatham's expertise includes:
She has extensive experience in designing research tools in formats that encourage respondent participation
She has managed more than 500 research projects across the United States
She has unsurpassed experience in the field of developing and applying performance measurements.  She developed the data collection methodology that is used for the "report card" that is published annually by Partnership for Children, one of the Midwest's leading children's advocacy groups.
Dr. Tatham's current responsibility is:

1982 – present; ETC  Institute, Olathe, Kansas, Owner

Senior executive of a company that provides management consulting services including marketing research, demography, information management, statistical applications, strategic planning, forecasting, simulation, and operations research for management decision-making.  Focus is on the acquisition and display of information for management decision-making.  Clients include businesses, public school systems, colleges, vocational technical schools, governmental units, and not-for-profit agencies.

Education:

Ed. D, Educational and Psychological Research, University of Kansas, 1971; M.A., Mathematics, University of Kansas, 1960; B.A., Mathematics, Carleton College, 1958

Professional Affiliation:

Olathe Medical Board of Trustees member; National Association of Women Business Owners; Institute of Management Consultants; Mathematical Association of America; City of Olathe, KS, Planning Commission; Mid-America Regional Council - Urban Core Growth Strategies Committee; Citizens' Advisory Committee to the Kansas City Power & Light

Experience:

34+ years

Resume

/*